When you hear modular home, does your mind immediately go to those small, cramped manufactured homes that are parked, rather than built? Well, toss those ideas out immediately because a modular home is distinctly not the same thing. In fact, you may have been in a modular home before and never realized it because, once the building process is complete, a modular home looks like any traditional stick-built home. So, what's the difference between a modular home and one that's built in the traditional manner? It's all about the building process.
Building a Home: Traditional v. Modular
Having a modular home built is almost exactly like any other traditional new home build. When building a new home, generally you'll select and purchase a lot and choose a floor plan from one of the building companies in the area—or choose a builder to design and adjust a plan for you, if you're going fully custom. Then there are potential adjustments or alterations to the plan you've selected, picking out materials and paint colors, going through the permitting process, and watching with anticipation as your foundation is poured and your home is slowly built from the bottom up.
A modular home involves much the same process; you'll need to purchase the land, select a floor plan, go through the permitting, select materials, and so on. However, instead of the entire home being built directly on the lot, a modular home (also called a prefabricated house) is built in segments in a temperature-controlled facility then assembled on-site. No, this is not like a mobile home, which is built as a single unit, driven to the lot, and parked. A modular home is built room by room in a warehouse-like facility where the temperature can be controlled and weather won't affect the building process. Then, once the components are ready, it is not parked on-site; it is assembled and finished on the property in the same manner as a traditionally built home. A modular home will have the same strong foundation, sturdy walls, and protective roof that a traditional home has. In fact, you probably won't be able to tell it was a modular home, once completed. And the best part? It will look like and appraise at the same value as a traditionally built home.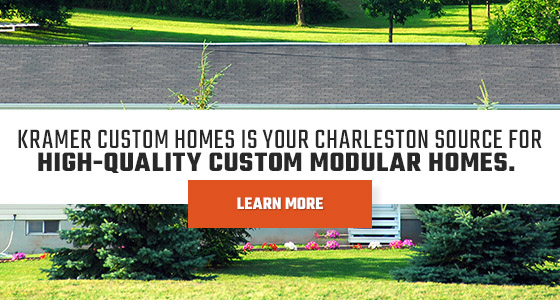 So, What's The Difference?
The biggest difference between a modular home and a traditional new build is that of time. A modular house can be built much more quickly because the construction team won't have to stop for a rainy day or too-cold temperatures. Since the majority of the home is built indoors, the process goes more quickly—often resulting in a completed home in half the time a traditional build would take. Think of modular home building a bit like making a house from Lego blocks, except on a much grander scale.
One of the other key benefits to a modular home is the level of customization possible. When you go to a builder to commission a new home, you'll probably end up choosing between a handful of floor plans, with a few built-in alterations available for each model. When it comes to modular homes, most builders will use a C.A.D. (Computer Aided Design) program so that elements of an existing floor plan can be altered in house. This allows for a greater level of customization, so you can enjoy the benefits of a custom build without the extensive and expensive process.
If you've been thinking about designing a custom home, but don't want to go through the layers of hassle, a modular home could be the answer you've been looking for. Want to know more? Contact Charleston's Kramer Custom Homes today!